GLORIOR BELLI – The Apostates – March 20, 2018
Posted on March 20, 2018
More information about The Apostates
GLORIOR BELLI have announced a string of shows in France, Germany, and Switzerland in support of their forthcoming new album, 'The Apostates', which will be released on April 6th, 2018. More dates will follow in due time.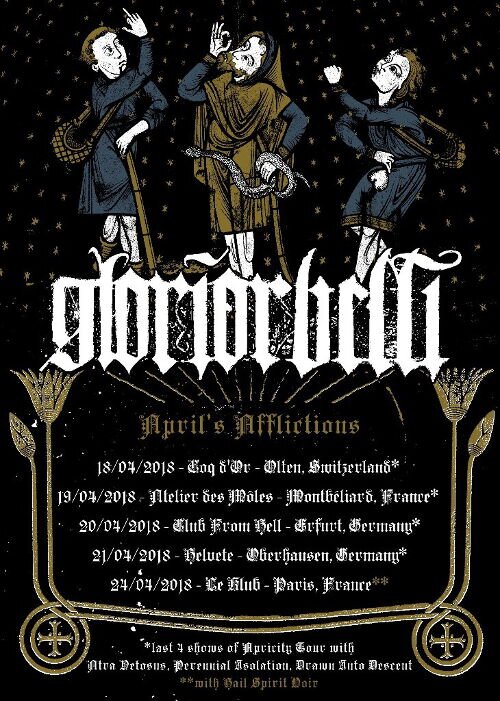 18 Apr 18 Olten (CH) Coq d'Or
19 Apr 18 Montbéliard (FR) Atelier des Môles
20 Apr 18 Erfurt (DE) Club From Hell
21 Apr 18 Oberhausen (DE) Helvete
24 Apr 18 Paris (FR) Le Klub (+Hail Spirit Noir)
GLORIOR BELLI comment: "What could be better than seeing the release of a new album? Playing it live and loud! Introducing a brand new line-up on stage, we will be headlining the last four dates of the "Apricity European Tour" joining forces with ATRA VETOSUS (AU), PERENNIAL ISOLATION (ES), and DRAWN INTO DESCENT (BE) before coming home to Paris for an exclusive show with Greek masters of darkness HAIL SPIRIT NOIR. This is a journey as much as it is an invitation, so load up your haversack and hit the dusty road!"
GLORIOR BELLI will be touring in support of their forthcoming new album, 'The Apostates'. The album cover and details of 'The Apostates' can be viewed below.
Sui Generis
Deserters of Eden
The Apostates
Bedlam Bedamned
Hangin' Crepe
Jerkwater Redemption
Split Tongues Won't Atone
Runaway Charley
Rebel Reveries
'The Apostates' can still be pre-ordered in various formats from the Season of Mist shop
Join GLORIOR BELLI on their official Facebook page!
View Glorior Belli