GRAVE DESECRATOR – New Signing – March 5, 2015
Posted on March 5, 2015
Season of Mist are proud to announce the signing of GRAVE DESECRATOR! The Brazilian warmongers' new album will hit the stores later this year.
GRAVE DESECRATOR comment: "A pact has been sealed, and we are very proud of it! Season of Mist will be in charge to spread our waves of sonic desecration, striking down the earth in witching hour!", writes bassist E. Necrogoat. Founded in 1998 in Rio de Janeiro, GRAVE DESECRATOR have established a reputation as one of the most savage and brutal South American metal bands through the release of two full-length albums and several well-received splits (including much sought-after splits with ARCHGOAT and BLACK WITCHERY). Adhering to the extreme ways of their Brazilian predecessors, GRAVE DESECRATOR are true torch bearers of the underground and firmly place themselves among the ranks of entities such as SARCOFAGO, early SEPULTURA, and MUTILATOR.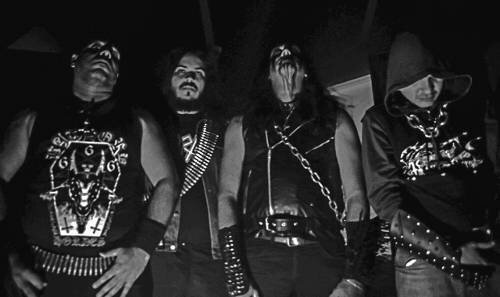 Line-up
Butcherazor: guitars & vocals
Black Sin and Damnation: guitars
Élson "El" Necrogoat: bass
Márcio Slaughterer: drums
www.gravedesecrator.com
www.facebook.com/gravedesecrator666
View Grave Desecrator