MISERY INDEX – Rituals of Power – April 16, 2019
Posted on April 16, 2019
More information about Rituals of Power
After the first successful 'Rituals of Power' tour last month, Death Metal extremists MISERY INDEX have just announced a second run of European tour dates. A full list of confirmed shows can be found below.
The tour kicks off at the Protzen Open Air festival (DE) on June 28 and sees the band traveling throughout 6 more countries until a final curtain at In Flammen Open Air (DE) on July 12. A full list of confirmed shows can be found below.
MISERY INDEX comment on the tour: "We are excited to get back to Europe for 'Phase II' of the 'Rituals of Power' tour. The first round was a massive success, and we look forward to once more bringing the metal to the people this summer when we return for festival appearances and a series of limited club shows. Look for even more new tunes to be performed live for the first time, as a well as a selection of classics from the back catalog. Come one, come all, and let's 'hammer the nails'!"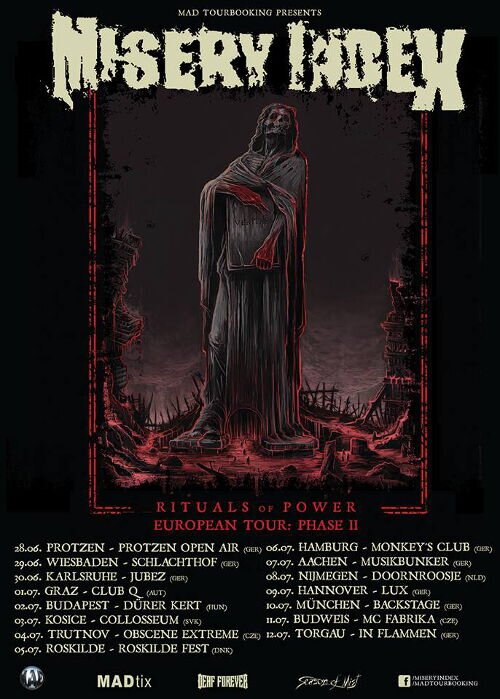 MISERY INDEX
28 Jun 19 Protzen (DE) Protzen Open Air
29 Jun 19 Wiesbaden (DE) Schlachthof
30 Jun 19 Karlsruhe (DE) Jubez
01 Jul 19 Graz (AT) Club Q
02 Jul 19 Budapest (HU) Dürer Kert (+Whitechapel)
03 Jul 19 Kosice (SK) Collosseum
04 Jul 19 Trutnov (CZ) Obscene Extreme
05 Jul 19 Roskilde (DK) Roskilde Fest
06 Jul 19 Hamburg (DE) Monkey's Club
07 Jul 19 Aachen (DE) Musikbunker
08 Jul 19 Nijmegen (NL) Merleyn
09 Jul 19 Hannover (DE) LUX
10 Jul 19 München (DE) Backstage (+Napalm Death)
11 Jul 19 Budweis (CZ) MC Fabrika
12 Jul 19 Torgau (DE) In Flammen
MISERY INDEX will be touring in support of their album 'Rituals of Power', which is still available in the Season of Mist shop.
Join MISERY INDEX on their official Facebook page.
View Misery Index