THE CASUALTIES – Resistance – November 2, 2012
Posted on November 2, 2012
More information about Resistance
The good news: also starting out to smash up the system in Europe are Punk rebels THE CASUALTIES in support of their new album "Resistance". The NYC outfit will hit no less than 15 countries with their highly energetic live shows. The bad news: due to hurricane "Sandy", the band's flights from New York were cancelled and delayed for several days!
Despite trying hard to find alternatives it is now clear that the band will not be able to perform at the first four dates in Spain and Portugal. THE CASUALTIES will not be present in Badalona, Durango, Virgo and Lisboa. Ticketholders are advised to contact their local venue regarding more information as the opening acts might still go on stage or possible refunds. The tour will now officially start with the concert in Madrid on the 5th of November. This and all subsequent shows will take place as scheduled.
THE CASUALTIES wish to apologise to all their fans, who are affected by this misfortune, but the catastrophic events in New York are completely beyond the band's control.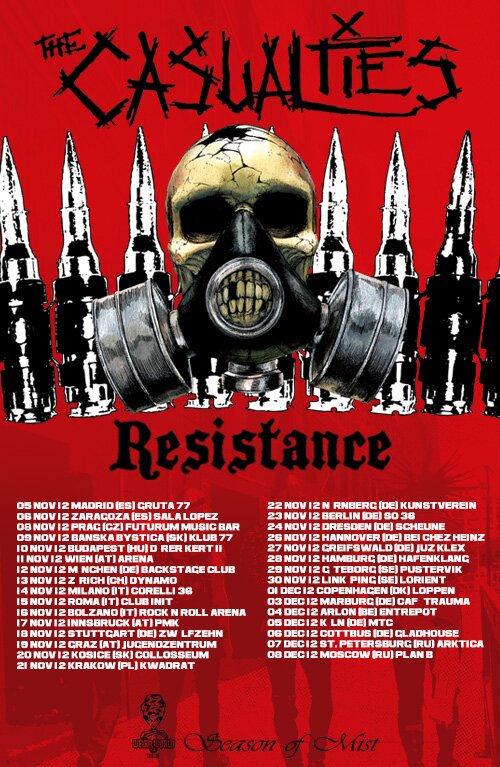 05 Nov 12 Madrid (ES) Gruta 77
06 Nov 12 Zaragoza (ES) Sala Lopez
08 Nov 12 Prag (CZ) Futurum Music Bar
09 Nov 12 Banska Bystica (SK) Klub 77
10 Nov 12 Budapest (HU) Dürer Kert II
11 Nov 12 Wien (AT) Arena
12 Nov 12 München (DE) Backstage Club
13 Nov 12 Zürich (CH) Dynamo
14 Nov 12 Milano (IT) Corelli 36
15 Nov 12 Roma (IT) Club Init
16 Nov 12 Bolzano (IT) Rock´n Roll Arena
17 Nov 12 Innsbruck (AT) PMK
18 Nov 12 Stuttgart (DE) Zwölfzehn
19 Nov 12 Graz (AT) Jugendzentrum
20 Nov 12 Kosice (SK) Collosseum
21 Nov 12 Krakow (PL) Kwadrat
22 Nov 12 Nürnberg (DE) Kunstverein
23 Nov 12 Berlin (DE) SO 36
24 Nov 12 Dresden (DE) Scheune
26 Nov 12 Hannover (DE) Bei Chez Heinz
27 Nov 12 Greifswald (DE) Juz Klex
28 Nov 12 Hamburg (DE) Hafenklang
29 Nov 12 Göteborg (SE) Pustervik
30 Nov 12 Linköping (SE) Lorient
01 Dec 12 Copenhagen (DK) Loppen
03 Dec 12 Marburg (DE) Café Trauma
04 Dec 12 Arlon (BE) Entrepot
05 Dec 12 Köln (DE) MTC
06 Dec 12 Cottbus (DE) Gladhouse
07 Dec 12 St. Petersburg (RU) Arktica
08 Dec 12 Moscow (RU) Plan B
"Resistance" is released in various formats: CD jewel case, Digibox with CD, patch, bandana and bottle opener, transparent vinyl LP and regular black LP. All formats, as well as t-shirts, are now available through Season of Mist's e-shop.
View Casualties, The