THE CASUALTIES – Chaos Sound – July 18, 2017
Posted on July 18, 2017
More information about Chaos Sound
THE CASUALTIES have announced the departure of frontman Jorge Herrera due to growing tired of the strains of life on the road. The band will fulfill all previously announced dates including the European festival tour in August. A full list of shows can be found below.
The band's longtime friend David Rodriguez (STARVING WOLVES, KRUM BUMS) will be handling vocal duties.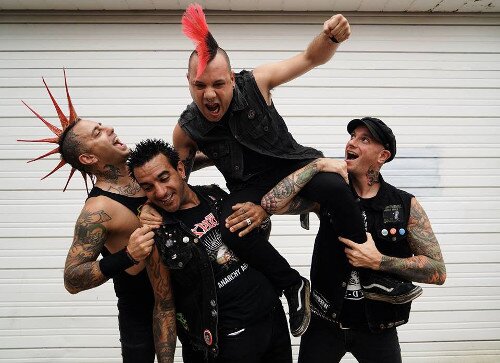 THE CASUALTIES comment: "Attention, Casualties Army! After 27 years of performing with the band, Jorge has chosen that touring life is no longer for him. With that said, we will carry on. As anyone who follows us knows, the name THE CASUALTIES is stronger then any one member. The songs written in basements throughout New York City shall continue to ring loud. We will continue our commitment to the Casualties Army! We will tour and put forward new anthems for many more years to come. When we said 'it's a f*cking way of life' back in the beginning, we meant it."
THE CASUALTIES
06 Aug 17 Brighton (UK) Rebellion
09 Aug 17 Nottingham (UK) The Maze
13 Aug 17 London (UK) Underworld
15 Aug 17 Warszawa (PL) Poglos
16 Aug 17 Zlotow (PL) Generator
17 Aug 17 Nowy Targ (PL) Piwnca u Winiarskich
18 Aug 17 Vyskov (CZ) Pod Parou
19 Aug 17 Volyné (CZ) Summer Punk Party
20 Aug 17 Graz (AT) Explosiv
21 Aug 17 Tannheim-Egelsee (CZ) Schwarzer Adler
22 Aug 17 Mannheim (CZ) Sommerbühne 7er Club
23 Aug 17 Erfurt (CZ) From Hell
24 Aug 17 Niedergörsdorf (CZ) Spirit Festival
THE CASUALTIES are performing in support of their latest full-length 'Chaos Sound'. Artwork and track-list are shown below.
Intro
Chaos Sound
Visions Of Greed
Running Through The Night
Brothers And Sisters
Murder Us All
Work Our Lives Away
Countdown To Tomorrow
Fight for What's Mine
Keep Your Distance
In the Lost City
Bomb Blast
R.A.M.O.N.E.S. (Motörhead cover)
Halfway To Hell
United Streets
'Chaos Sound' can still be ordered in various formats from the Season of Mist shop.
Join THE CASUALTIES on their official Facebook page!
View Casualties, The