THE CASUALTIES – Chaos Sound – March 9, 2017
Posted on March 9, 2017
More information about Chaos Sound
In support of their latest release 'Chaos Sound', THE CASUALTIES have announced to be joining THE EXPLOITED on the second leg of their 'The Real Punk Rock', which already drew out large crowds last autumn. Continue for a list of all confirmed shows.
The New York punk veterans will hit the European roads for most of April and during the first days of May with more gigs expected to be revealed soon and some additional headlining shows. A list of all currently confirmed dates can be viewed below.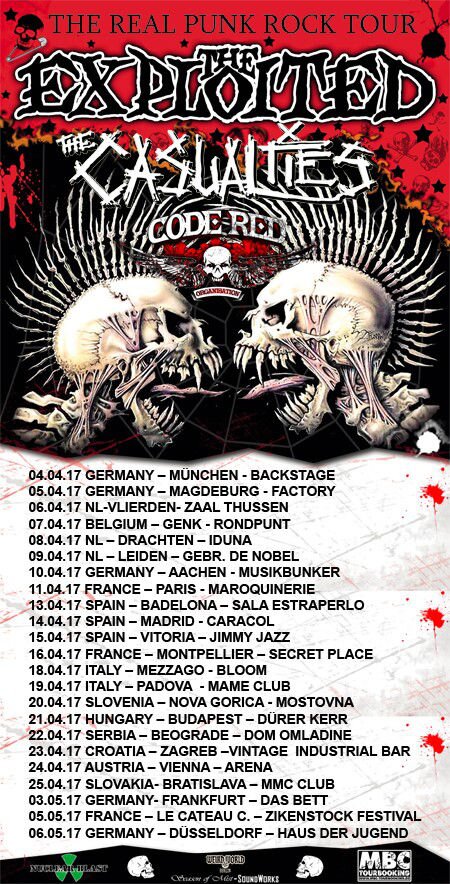 THE CASUALTIES + EXPLOITED + CODE RED
04 Apr 17 München (DE) Backstage
05 Apr 17 Magdeburg (DE) Factory
06 Apr 17 Vlierden (NL) Zaal Thussen
07 Apr 17 Genk (BE) Rondpunt
08 Apr 17 Drachten (NL) Iduna
09 Apr 17 Leiden (NL) Gebr. de Nobel
10 Apr 17 Aachen (DE) Musikbunker
11 Apr 17 Paris (FR) Maroquinerie
13 Apr 17 Badalona (ES) Sala Estraperlo
14 Apr 17 Madrid (ES) Caracol
15 Apr 17 Vitoria (ES) Jimmy Jazz
16 Apr 17 Montpellier (FR) Secret Place
18 Apr 17 Mezzago (IT) Bloom
19 Apr 17 Padova (IT) Mame Club
20 Apr 17 Nova Gorica (SI) Mostovna
21 Apr 17 Budapest (HU) Dürrer Kerr
22 Apr 17 Beograde (RS) Dom Omladine
23 Apr 17 Zagreb (HR) Vintage Industrial Bar
24 Apr 17 Wien (AT) Arena
03 May 17 Frankfurt (DE) Das Bett
05 May 17 Le Cateau-Cambrésis (FR) Zikenstock
06 May 17 Düsseldorf (DE) Haus der Jugend
THE CASUALTIES
26 Apr 17 Jena (DE) Rosenkeller
27 Apr 17 Wolgast (DE) Kessel Bar
02 May 17 Neukirchen (DE) Sägewerk
THE CASUALTIES are performing in support of their latest full-length 'Chaos Sound'. Artwork and track-list are shown below.
Intro
Chaos Sound
Visions Of Greed
Running Through The Night
Brothers And Sisters
Murder Us All
Work Our Lives Away
Countdown To Tomorrow
Fight for What's Mine
Keep Your Distance
In the Lost City
Bomb Blast
R.A.M.O.N.E.S. (Motörhead cover)
Halfway To Hell
United Streets
'Chaos Sound' can still be ordered in various formats from the Season of Mist shop.
Join THE CASUALTIES on their official Facebook page!
View Casualties, The