THE CASUALTIES – Chaos Sound – July 4, 2016
Posted on July 4, 2016
More information about Chaos Sound
THE CASUALTIES have kicked off their massive European tour. The American street punk icons will continue their wild rampage throughout Germany, France, Spain, Slovakia, Hungary, Austria, Czech Republic, Poland, The Netherlands, and Belgium until a final sweat dripping night in Switzerland at Zürich's Dynamo club on the 13th of August. A full list of confirmed shows can be viewed below.
THE CASUALTIES European Tour
04 Jul 16 Angouleme (FR) Le Mars
06 Jul 16 Madrid (ES) Gruta 77
07 Jul 16 Viveiro (ES) Ressurection Festival
08 Jul 16 Bordeaux (FR) Iboat
09 Jul 16 St Prouant (FR) Les feux de l´été
11 Jul 16 Bratislava (SK) Randal Club
12 Jul 16 Szalki Sziget (HU) Rockmaraton Festival
14 Jul 16 Nova Gorica (SK) Mostovna
15 Jul 16 Nürnberg (DE) Kunstverein
16 Jul 16 Glaubitz (DE) Back To Future
18 Jul 16 Hersfeld (DE) Jugendhaus
19 Jul 16 Freiburg (DE) Walfisch
20 Jul 16 Weinheim (DE) Cafe Central (+Total Chaos)
21 Jul 16 München (DE) Hansa 39 (+Total Chaos)
22 Jul 16 Wien (AT) Arena (+Total Chaos)
23 Jul 16 Tabor (CZ) Mighty Sounds Festival
27 Jul 16 Lodz (PL) Dom
28 Jul 16 Gdynia (PL) Ucho
31 Jul 16 Rotterdam (NL) Baroeg
01 Aug 16 Braine le Comte (BE) La Salle Damas (+Total Chaos)
02 Aug 16 Paris (FR) Gibus
03 Aug 16 Wiesbaden (DE) Schlachthof (+Total Chaos)
04 Aug 16 Groningen (NL) Huize Mass
05 Aug 16 Hamburg (DE) Monkey Music Club (+Total Chaos)
06 Aug 16 Hünxe (DE) Ruhrpott Rodeo
08 Aug 16 Kiel (DE) Schaubude
09 Aug 16 Erfurt (DE) From Hell
10 Aug 16 Hannover (DE) Bei Chez Heinz
11 Aug 16 Berlin (DE) SO36
13 Aug 16 Zürich (CH) Dynamo
THE CASUALTIES will be performing in support of their latest full-length 'Chaos Sound', which was released worldwide on January 22nd and is still available in various formats from the Season of Mist shop. Artwork and track-list are shown below.
Intro
Chaos Sound
Visions Of Greed
Running Through The Night
Brothers And Sisters
Murder Us All
Work Our Lives Away
Countdown To Tomorrow
Fight for What's Mine
Keep Your Distance
In the Lost City
Bomb Blast
R.A.M.O.N.E.S. (Motörhead cover)
Halfway To Hell
United Streets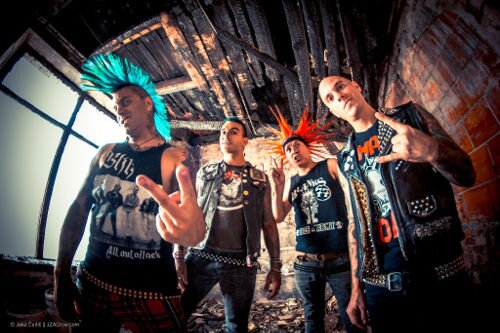 Line-up
Jorge: vocals
Jake: guitar
Rick: bass
Meggers: drums
Join THE CASUALTIES on their official Facebook page!
View Casualties, The