KYLESA – Exhausting Fire – September 30, 2015
Posted on September 30, 2015
More information about Exhausting Fire
KYLESA are streaming their forthcoming album in full. 'Exhausting Fire' has been scheduled for worldwide release this Friday, October 2nd. The eclectic and unique Savannah rockers are premiering their highly anticipated full-length exclusively via the official media partners below:
Spark (CZ)
Noisey (DE)
Rockzone (ES)
Soundi (FI)
New Noise (FR)
Rocking (GR)
Lángoló Gitárok (HU)
Metalitalia (IT)
3voor12 (NL)
Musick Magazine (PL)
Loud (PT)
Metal Hammer (UK)
Noisey (US)
The album can be ordered in several CD and LP formats at the Season of Mist shop.
Regarding the new album, KYLESA vocalist/guitarist Phil Cope comments: "'Exhausting Fire' is an album we really put our hearts on our sleeves for. We've always done that, but emotionally, it's probably the most honest and raw album we've ever done."
"No band sounds like us and we don't sound like any other band", guitarist / vocalist Laura Pleasants continues. "After all these years of experimenting with different styles and sounds, we've really developed our own thing and I can faithfully say that we sound like us. With this album, we've successfully made a record that incorporates all the elements we've always played with into a record that works on its own."
The artwork for 'Exhausting Fire' was designed by their regular artist Shaun Beaudry and can be seen below.
Crusher
Inward Debate
Moving Day
Lost And Confused
Shaping The Southern Sky
Falling
Night Drive
Blood Moon
Growing Roots
Out Of My Mind
KYLESA have already embarked on an extensive tour through North America. A list of all remaining shows can be viewed below.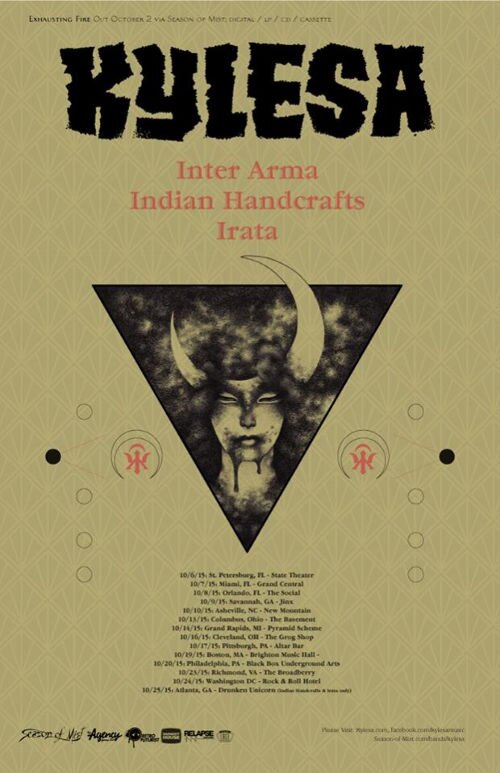 October with INTER ARMA, INDIAN HANDCRAFTS, IRATA
06 Oct 15 Saint Petersburg, FL (US) State Theatre
07 Oct 15 Miami, FL (US) Grand Central
08 Oct 15 Orlando, FL (US) The Social
09 Oct 15 Savannah, GA (US) Jinx
10 Oct 15 Asheville, NC (US) New Mountain
13 Oct 15 Columbus, OH (US) The Basement
14 Oct 15 Grand Rapids, MI (US) Pyramid Scheme
16 Oct 15 Cleveland, OH (US) Grog Shop
17 Oct 15 Pittsburgh, PA (US) Altar Bar
19 Oct 15 Boston, MA (US) Brighton Music Hall
20 Oct 15 Philadelphia, PA (US) Underground Arts
23 Oct 15 Richmond, VA (US) The Broaberry
24 Oct 15 Washington, DC (US) Rock and Roll Hotel
25 Oct 15 Atlanta, GA (US) The Drunken Unicorn
November
06 Nov 15 Pomona, CA (US) The Glass House
07 Nov 15 Los Angeles, CA (US) The Fonda Theatre
08 Nov 15 San Francisco, CA (US) The Fillmore
10 Nov 15 San Diego, CA (US) The Irenic
11 Nov 15 Boise, ID (US) Neurolux Lounge
13 Nov 15 Austin, TX (US) Red 7
14 Nov 15 Houston, TX (US) Warehouse Live
15 Nov 15 Dallas, TX (US) The Prophet Bar
17 Nov 15 Colorado Springs, CO (US) Black Sheep
18 Nov 15 Denver, CO (US) The Summit Music Hall
19 Nov 15 Salt Lake City, UT (US) The Complex
20 Nov 15 Boise, ID (US) Neurolux
21 Nov 15 Portland, OR (US) Hawthorne Theatre
22 Nov 15 Seattle, WA (US) The Crocodile
26 Nov 15 Salt Lake City, UT (US) The Complex
More dates and overseas tours are in the planning and will be announced in due time.
Join KYLESA on Facebook and pre-order 'Exhausting Fire' now at the Season of Mist shop!
View Kylesa